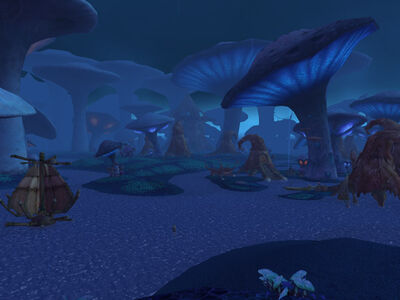 Le Village de Tourbedague est la plaque tournante de tout ce qui concerne la chasse dans ce côté-ci de Zangar. Situé près des anciennes terres de la Tribu Ango'rosh, le village est dirigé par le chasseur de renom, Morzur le Bourreau de Zangar.
Le village a vu rayonner son commerce de fourrure pendant près de 20 années. Ce village accueille les chasseurs de la Horde, et parfois ceux de l'Alliance, désireux de prendre un peu de repos autour d'un verre ou de revendre leur marchandise. Même si le village possède une base forte d'une vingtaine de chasseurs habitués aux lieux, la plupart du monde ne fait pas partie de l'enseigne et n'est donc que de passage dans les locaux.
Guilde et Membres Notables
Edit
Le Conseil des Chasseurs

Morzur le Bourreau de Zangar <Dirigeant du Conseil des Chasseurs>
Ertog Ragembroche <Maître des Gardiens>
Mawg Trait-Sinistre <Maître des Archers>
Korla <Maître des Lanciers>
Roon Crin-Sauvage <Maître des Tireurs-d'élites>
Ad blocker interference detected!
Wikia is a free-to-use site that makes money from advertising. We have a modified experience for viewers using ad blockers

Wikia is not accessible if you've made further modifications. Remove the custom ad blocker rule(s) and the page will load as expected.